Breakfast: Same as yesterday...
We're in a hurry. We have to pack, so the hotel can store our bags. We will be checking into a different room in the Castex this evening -- one with a private toilet! And we're running late, holding up Ray, Peggy, Ling, Alice, and perhaps Lora. We're all going to Versailles together this morning.
While wolfing down my juice and croissant and baguette, Rick shows up, clearly just out of the shower and looking quite pooped. I think he's ready for some time off!

| | | | |
| --- | --- | --- | --- |
| Carl and Diana | Lois | Mike and Denise | A very tired Rick... |
With breakfast out of the way, we make a few more farewells (to Rick, Mike, Denise, Carl, and Diana), and head to Versailles. Lora decides to go with a later group, as she needs to purchase stamps and eat breakfast. Last we see of her, our postal worker is waiting in line at (where else?) the Bureau de Poste across from the hotel.
As we go from the Austerlitz Metro station to the RER station, somewhere, someone strikes up "La Vie En Rose" on an accordion. Brig gets all misty eyed, and insists that I record the incident here. Women can be sooooo sentimental. Ahem.
At the Austerlitz RER station, we once again bump into that bane of La Belle France, the striking worker. The rail workers are on strike, you see. There is only one train per hour to Versailles Rive Gauche, the preferred stop for visiting the palace. Make that maybe one train per hour. And it won't leave until 9:59. Maybe.
We buy our tickets anyway, the ticket vendor regarding us with a sour look. (Too bad we didn't consider a taxi!) After some confusion (you see, the rest of this group mistakenly dubs me "Rick" for this excursion) we get on the train for Versailles CH (against the train engineer's and the guide books' recommendations). We figure that we ought to be able to walk to the palace, wherever the train lets us off. And that's precisely what we do. Versailles CH is only about 5 minutes further away from the palace than the preferred stop. And they offer a simple walking map for all the misguided tourists. Piece of cake! (Get it? Marie Antoinette? Cake? Ah, never mind...)





After all that, most of us are a little disappointed with the joint. Lots of opulence, to be sure, but little taste. The Mona Winks tour helps a bit, but I got more out of the reading than the seeing. The gardens and pools and fountains are a different matter altogether. It is a huge, beautiful place, and is very well kept. A great place for a frisbee toss and a picnic lunch. Oh, and it's not clear that there is any charge for admission to the grounds. You can rent bicycles to ride around in there. You can even rent a rowboat -- and the pool is a mile long!


Brigid and Peggy, strolling outside Palais de Versailles.


The gardens near Versailles' Orangerie. (NOT the one near the Louvre.)


Nice fountains and pools, eh? The far end is over a mile away!
(Yes, the air was a bit polluted.)


A nice place for le pic-nic, non?
Back to Versailles CH station. Along the way, we happen on a wedding party, with a uniquely decorated getaway car
. Once we reach the station, the schedule board shows only one train that goes to Paris, to Montparnasse station. But, we want to go to Concorde, so we can get to the Orangerie, near the Louvre. I ask the information desk: Sorry, there's a strike. Try that Montparnasse train, and then use the Metro. We do so, and it works just fine. We say our last good-byes to Ling and Ray at Concorde, and visit L'Orangerie.
What a treat! It's a tiny museum, with some uninteresting (to me) paintings upstairs, and eight Money works, almost murals, downstairs. According to my translation of the french sign, Money announced, on Armistice Day (11/11/1918) that he would paint these paintings, to be displayed in these rooms constructed for this purpose, as a bouquet to France. The room was not made available to the public until Money's death in 1927.
The paintings are beautiful, and huge, wrapping around the elliptical walls of the two rooms. It is easy to lose oneself in them. And you can get as close to the paintings as you like. It is a unique experience in Paris, heck, in the world.
Back to the hotel, to check in, confirm flight reservations, and take a rest. I notice that my throat is getting scratchy. Bad news. The cold I had hoped to avoid (about half the tour members seemed to have gotten it, including Brig) was knocking on my door. Brig had used up her cough drops, so I went in search of some more while Brig took a nap.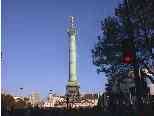 While in the room, I start hearing a banging noise, coming from the street. When I reach the hotel lobby, the desk attendant is at the front door, and waves of banging and clanging are filling the lobby. I reach the street, and to my right are trucks with loudspeakers and youths are slowly cruising by, surrounded by throngs of more crowds, mostly in their late teens and early twenties, many with very brightly colored hair. The trucks are blaring a rhythmic beat, without any melodic elements. It's the Techno Parade, a festival for the lovers of techno music. The parade passes by the Place de la Bastille, whose monument is covered by the crowd. From the top of the monument, kids are throwing squares of paper that say "Servez-vous." (It turns out that this is hardly a subversive message -- it's the current advertising motto of France Telecom, a corporate sponsor of the Parade.) One of the Techno trucks carries scantily clad dancers, another billows theatrical smoke, and all of them bear amplified speakers blaring out the same style of musicless beat, with occasionally boingy/clanky sound effects thrown in for variety. This stuff is suitable for inducing ecstatic trances and suppressing conscious thought -- not for appreciation of music. Either that, or I'm insufficiently open-minded to "get it."
As young and wildly attired as the crowd is, it is very mellow. No fights, no jostling, no shouting (other than in response to the music), and no rowdiness. Folks are drinking or rolling cigarettes (I don't smell any dope, but then my nose is going on the blink). Little kids are on the street with their parents, so there must not be much realistic expectation of violence. On the other hand, some increased presence of uniformed, armed personnel is in evidence. Someone must be concerned -- or at least covering their butts.
Walking down the street, I'm impressed with the number of pastry shops, charcuteries, cafés, restaurants, and produce markets. I stop and drool at each one. This would be a dangerous place for me to live. Visits, however, would be wonderfully fun eating. A long stay here would definitely threaten my waistline.
After her nap, we go to La Bastoche for dinner, and order from the FF89 menu:
soupe de poisson for me: This is an opaque fish broth. It is served with some shredded cheese (emmenthaler?), mild mustard, and dried baguette slices. I dump the cheese in the soup (it falls to the bottom and clumps together), and attempt to stir in a little mustard. It doesn't dissolve. Odd. It's good soup, nevertheless.
salade du fruits de mer: lettuce and some cold, marinated clams, mussels, and shrimp. Pleasant, but not outstanding. The seafood salad in Venice was much better.
brochettes de boeuf with pommes frites (broiled beef cubes with fried potatoes). Simple, but good.
tagliatelle de saumone fumé: broad noodles in a cream sauce with smoked salmon bits. I need my carbohydrates for the jet lag diet, and this does the trick. It's good, but very rich.
tarte de citrone. The lemon filling is smooth, tart, and delicious. The crust is far too thick, though. Perhaps I'm just too full, but I can't eat it (the crust, that is).
chocolate mousse, for Brig. This is so absurdly rich, and they serve such a ridiculously large portion (10 ounces, at least!) that together, we can't eat even half of it. And we're chocolate lovers. It's almost like eating ganache -- you want to taste it, not eat spoonfuls. La Serre's mousse was far better.
Dinner guests and cultural observations:
Two different dinner parties were served at the adjoining table, while we were at La Bastoche:

A gentleman dining alone asks (in french, of course) whether we mind if he lights up a cigarette. This being Paris, we acquiesce ("When in Rome..."). The very fact that he asked before starting may well be indicative of a cultural change among the French. Happily, the airflow carried his effluent away from us. In fact, I was very pleasantly surprised at how seldom we encountered offensive smoke, over the course of the entire trip. This is a great contrast from the situation in much of Asia.


A young couple replaces this gentleman. They are joined by their dog, who, for the most part, sits quietly beneath their table. When Brig shows interest in the dog, it happily looks for some attention. The couple reproaches the dog for its breach of etiquette. Yup, the French bring their dogs everywhere...
As we finish what we can of our desserts, we start hearing loud reports and seeing flashes of color on the tops of buildings across the street. We pay the bill and go to the hotel by way of Rue Henry IV. Over the buildings, we can see fireworks, less than 1/4 mile away (there's a 1 second delay between flash and report). Perhaps this is the finale to the Techno Parade? They must be having the fireworks on the Seine, just below Ile St. Louis. Fireworks over Paris. What a nice way to end our vacation...