Breakfast, on this last day of the tour, is coffee (americain), juice, baguettes, croissant, butter, and jam.







We pile into the Metro for a visit to the Louvre.
Before entering, we gather in front of the Arch de Carousel for a group photo (yes, the one on the top page). And back down into the Metro station, to enter the Louvre from below. Rick carefully advises us to trickle in -- not to look like a group, else we will have to check bags as a group. We surreptitiously trickle in nicely, only to learn that the guards are on strike today. The Louvre will open sometime after 10:30, if at all. Ah, Paris, city of the striking worker!
Plan B: Head over to L'Orangerie, to see Money's Water Lilies. We reach L'Orangerie. It's closed for maintenance/repair. It reopens tomorrow.
Plan C: Anybody for the Orsay Museum? Cross the Seine, approach the Orsay. Rick, as usual, has sprinted ahead to check the status: He's smiling!
Brig and I break off from the group for a Mona Winks Orsay tour. We eventually find the escalators to the Impressionists (it's harder to find than one might expect!), and manage to glom onto a Smithsonian Studies tour. Monet and Manet, and Degas are all very nice, but they don't really hold my interest for long. I remain in the vicinity of the tour group, browsing the paintings, while Brig sticks with it. The Mona Winks descriptions, while occasionally a trifle too flip, are more in line with my interest level.
When we get to Van Gogh, the transition is almost shocking. The impressionists' visions are mostly muted and fuzzy, while Van Gogh is sharp and colorful. Even so, there is just too much here to hold my interest. We skip to the Mona Winks tour of "The Other Orsay." As silly as it sounds, the one work that I remember best is the sculpture, "Le Souvenir," in the Grand Ballroom. The effect of the veil on the face is incredible.
We decide to grab lunch and give the Louvre another shot. But, we will NOT be eating at the Orsay, where a bowl of soup costs $10! Instead, we find a patisserie, and buy our minimal lunch-to-go:
A slice of tarte a l'oignon au tomates (a very fancy pizza on pastry dough). It was deeeelish.
A croustade (sp?); This is basically a pastry-enfolded sandwich with ham and cheese. Also good, but I like the tart better.
A cinnamon roll ala francais -- no cinnamon or thick goop "frosting" to scrape off, but with sultanas instead of dark raisins. Very nice.
We grab our lunch, including a can of Coke for Brig, and eat it on a bench at the Tuileries garden, near the Louvre. The birds keep a close eye on us. A couple of "sparrows" watch from nearby. Brig throws a crumb or two to them. More show up. Then the pigeons notice the commotion, and we're instantly surrounded by the winged rat brigades. Time to go! (The remaining crumbs go in the garbage.)

We bump into Peggy and Ray on the way to the Louvre. The short lines at the pyramid bode ill. I approach, and am handed a french language flyer, describing the guards' demands. I ask s'il La Louvre est fermé. The guard says, "Non. Ouvert." Then he explains, in english that the guards are on strike, but we can go in if we scabs promise not to steal anything. (Okay, gimme some artistic license: He really said that they are striking, and that the museum is mostly open, but with a reduced security staff.)

Thus, we luck out, and manage to enter the Louvre via the grand pyramid entrance, without having to wait on line for more than 5 minutes!

Peggy, Ray, Brig, and I do most of the Mona Winks Louvre tour, despite rearranged artworks, and transposed rooms (MW seems to have got the Neoclassicism and Romanticism rooms swapped on its map). I must be museumed-out. Even the Venus de Milo fails to make much of an impression on me. Nor do Leonardo's works. Art appreciation saturation? No doubt.

We all head for the Rodin Museum. More museum? More artwork? Well, somehow, I do find sculpture easier to appreciate. Rodin is particularly compelling for me. I hope it's not merely the sensuality (eroticism, even) of his work that attracts me. Two works, in particular, stand out:

"Diane" is a portrayal of the huntress goddess, complete with her quiver of arrows. The face, however, is so beautiful, it almost comes to life.

"L'Homme et Sa Pensée" ("The Man and his Thought," I think) is the other one that impressed me. It depicts a man, kissing the half-formed midriff of a woman's form, which is emerging from the raw rock behind her. Given Rodin's propensity for depicting entangled bodies (particularly men with women, and occasionally, women or nymphs with women), I suspect L'Homme, c'est Rodin.
I especially enjoy the way Rodin blends his forms with the rock face. There is some of this in Michelangelo's Prisoners, but there it seems almost accidental, as if he achieved the goal of his study and then lost interest in the work.

The four of us then walked to Napoleon's Tomb, on the way to the dinner rendezvous. What an incredible (sorry, I know I'm overusing that word!) ego this guy had. He approaches the ego of Louis XIV in this humongous tomb for a small man. Such large quantities of flawless marble are wasted on such an ugly tomb. What a shame. [We lucked out again, by the way. The tomb closes just as we are ready to exit.]

We rested for a few minutes -- all of us were thoroughly museumed- and walked-out. Then we walk the 5 minutes to the École Militaire Metro stop, to meet the group for the last tour dinner. Gene had said to meet at the hotel at 6:00 PM, or at the station at 6:15. They arrive 25 minutes late.

From the station, we did our last "buddy check" and walked to the restaurant, La Serre, in the Rue Cler neighborhood. Along the way, we make our way through bustling streets with fabulous produce markets. I would love to be able to spend some time here. Ah, well... Next trip, perhaps.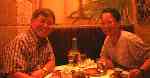 At La Serre, co-owner Marie-Alice explains the menu, and gives a much-simplified description of the process of cooking ala Normandie. For my dinner, I chose:
Poireaux (leek) in french dressing. This was delicious, and French french dressing is entirely unrelated to the bright orange stuff we have come to expect. It seems to be an oil and balsamic vinegar dressing, with some finely chopped herbs. The leek is cooked (braised? in what?) and served with the dressing, and garnished with pimentos.
Poulet ala Normandie: Chicken roasted (that's what I thought I heard) and then cooked in a broth made with vegetables, calvados (apple brandy), and cider, and with apples cut in. It was served with broad noodles. The sauce was slightly sweet. I soaked up the last of it with pieces of baguette. Heavenly.
Raspberry mousse. I hate to say this, because a few tour members were unable to get their mousse, but this was indisputably the best raspberry mousse I have ever tasted. Brig agrees.
Brigid had:
A mixed salad. It was good, but it was just a common mixed salad!
Duck confit avec pommes frites ("french fries," but these were potato cubes, deep-fried to perfection).
Chocolate mousse. Also very good. Brig and some others felt it was even better when eaten together with the raspberry mousse.
After dinner, we walked over to the Champs de Mars for the farewell ceremony in front of the Eiffel Tower. Rick and Gene handed out awards (one per tour member, of course) for outstanding characteristics.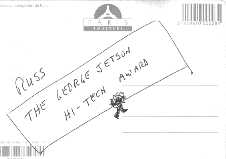 I got the "George Jetson" award, presumably for the fluorescent flashlight and digital camera (I had stopped wearing my Pilot very early in the tour). Brigid received the "Sly Wit" award, for her sharp zingers.

Champagne was poured for all, and toasts were made. Gene shared his personal tour memory highlights. Mike offered a well-deserved tribute to Gene for his multitude of talents, particularly his artistic and poetic sense (with which Mike clearly identifies strongly). Ray Chinn gave a public toast to Rick and Gene for their excellent and thorough work.

A final Travial Pursuit challenge: "How many steps from the Gimmelwald Schilthornbahn to Hotel Mittaghorn?" Cindy got the answer: 93. She shared her prize of a full can of Baci Balls with the group. After a group hug, we walked to the Eiffel Tower, saying good-bye to each other along the way.

I will miss many of my fellow tour members, but especially Rick and Gene, who did a fabulous job of organizing, leading, answering questions, anticipating problems, preparing us, etc.

I know that Gene Openshaw is considering his future directions, and that he might well stop leading tours in order to pursue other life goals. If so, we will have lost a great travel resource, but perhaps we will have gained a more prolific contributor to our culture. I feel privileged to have had him as our guide for the last 3 weeks. Good luck with identifying and realizing those goals, Gene. And good luck with your new status as a homeowner. Enjoy your new abode!

Rick Garman was also a tremendous resource. I probably bugged him with more questions, and more tough (or just dumb) questions than Gene. After all, when he wasn't running ahead to prepare lunch/buy tickets/check availability/..., he was at the back of the pack, sweeping up (or just monitoring) the stragglers. And Brig and I did tend to straggle a bit. So, there he is, and when a question arises that I really want to know about (I discard about half my questions as too irrelevant and annoying), I ask. Poor Rick. He did a great job, and never seemed annoyed or frustrated.
The view from the 2nd level (400 feet) of the Eiffel Tower is very nice. I don't think there would be much more to see at the 3rd level (1000 feet), though. Having lost track of Rick and Gene at a WC stop at the base of the Tower, we head back to the hotel with Peggy and Ray. Along the way, we look back at the tower, only to find yet another of those damned silly Millennium Clocks, in brilliant incandescent numerals. What is this obsession about?!
We get back to our room at 11:30, and flop...