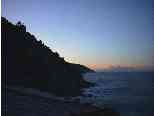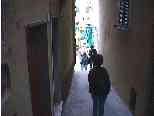 Groan... We have a 7:34 train to meet, so it's "...early to rise." Russ snaps a quick photo of a cloud being lit by the sun's early rays, and then we're out the door, trooping down Vernazza's ubiquitous stairs. Brig was hoping to grab another cup of Gianni's cappuccino, but no such luck: The trattoria isn't open yet. Gene and rick dole out cappuccino, coffee, tea, and pastries in the Levanto train station, but it apparently isn't nearly as good as Gianni Franzi's. Oh, well. It will have to wait for our eventual return trip.
We sit on the bus, droning onwards toward Switzerland. There are a few diversions:
At the last rest stop in Italy, we try to dispose of our Lire coins. The cashier screws up (after leaving her register open and unattended, to determine the price of some juice boxes), and we end up with yet more Lire coins. I still have some souvenirs.
We have lunch at a Swiss rest stop, consisting of

salad bar of lettuces, marinated seafood with celery and onions, country pate, roasted marinated peppers, garbanzos, etc. Here, it appears to be acceptable to cover every inch of plate with salad bar buffet fare.
freshly cooked ravioli with mushroom sauce. Brig loved it.
summer fruit tart: a thin layer of cake; topped with a layer of custard; then covered with raspberries, red currants, and blueberries; then a mild glaze; finally, dusted with a little confectioner's sugar. Very light, refreshing, and tasty. (I started seeing this tart throughout the rest of the trip, and eating it every chance I got. When we got home, and met Peggy and Ray for dinner, don't you know that this middle eastern restaurant had a very nice rendition of the very same treat!)


Lunch cost SF 30.10 ($22). Ouch.

A second (and final) game of Travial Pursuit. This week's fabulous prize are Baci Balls. These are much better than Mozart Balls (which explains why Baci are so easy to find in the U.S.). Brig and I win too many of them, again. I try sitting on my hand, but it doesn't always work. We pass our surfeit of winnings around the bus.
On arriving in Interlaken, we shop for a few souvenirs. The town is very well set up for this (big surprise). The Swiss Army knives are indeed a little less expensive here than we have seen elsewhere. We can get them engraved (no additional charge) on the spot. We wander into a music box shop, and marvel at the beautiful goodies and intricate music works available. The prices are even more marvelous. Not in our ballpark, for the stuff we really like.

While walking on the streets of Interlaken, I hear a rhythmic humming. Looking up, I identify the source: Flying above the ridge near the town, there appears to be a Sikorsky Skyhook helicopter, carrying a huge log in a sling. They are logging by helicopter near here. I've seen photos of this in Aviation Week, but this is the first time I've seen it in person. A little later, the Skyhook is returning with an empty sling, presumably for the next load. The Swiss appear to use helicopters for lots of lifting jobs. The next day, in the Lauterbrunnen valley, I see a newer Kaman helicopter trailing an empty sling. And the following day, on our way out of Stechelberg on the bus, we watch a small (Gazelle?) helicopter hovering at 50 feet above a construction site (perhaps 50 yards from the bus). It had just dropped off a load, and then left with an empty sling on its cable.

Back on the bus at 5:10 PM for a tight connection for the gondola to Gimmelwald. (Walter, who runs Hotel Mittaghorn, gets cranky if tour groups fail to appear precisely on time.) Unfortunately, Lora thinks the bus is to leave at 5:15. As soon Lora is sighted (on the wrong side of an occupied train crossing), the bus departs without her. Of course, we intercept her, since the bus also has to wait for the train.
The gondola to Gimmelwald is exciting. It starts in Stechelberg, near a tall waterfall, and right next to another cable gondola that is used for bungee jumping (300 feet for $75, 600 feet for $150). We watch a couple of jumps before being lifted in our gondola past a sheer 1400 foot cliff to Gimmelwald. Surprisingly, they've managed to engineer out the bumps that I expected upon going over the pylon at the top. It was a very smooth ride, with only a little swinging as we went over the pylon.
Our room (#12) at Hotel Mittaghorn has a washbasin, double bed, synthetic pillows (yay!), goose down comforters (boo!), and a blanket. It overlooks a steep uphill pasture. Rooms on the other side of the hotel overlook the valley, and an incredible array of snow-capped Alps.
We drop our stuff, put our fruit and soda in the cooler (otherwise known as the window ledge), and go out walking for awhile. There are crocuses and lots of other wildflowers, even this late in the season. Next to the hotel is a beautiful vegetable garden that supplies much of the veggies for the evening repast. There are also a few clumps of snow here and there. And as we are walking, it begins to snow! Not enough to stick, but enough to delight our fellow strollers.
Dinner:
hors d'oeuvres of salami, pickled hot and sweet peppers, and cornichons
good brown bread
cream of leek soup, which was excellent
spaghetti in tomato sauce
ice cream slab, covered in crème fraiche and nutmeg (?)
The hotel room is chilly, and it is a bit of a pain trying to get to a toilet. There are three toilets for 28 people. (Likewise, there are 3 showers for 28 people. Cold showers are free. Hot showers cost one Swiss Franc for each 5 minutes, and you can't prepay for multiple 5-minute sessions.) I wash our underwear in the sink, and then turn in. The beds warm up quickly with those down comforters...