Ahhhh... No appointments until 7:30 PM. We sleep in until 9:30. I take my traditional traveling pre-breakfast (fiber crackers, prunes, and water, if you must know, plus a couple of McVitie's "digestive cookies" -- I like these). Brig has a cappuccino at Gianni's, and shares a bowtie-like pastry with raisins. She really enjoys their cappuccino.
We take the train to Corniglia. There's nothing to see here -- we find out by walking up the road into town (a British couple ahead of us chats with a vineyard worker, to verify that this is the right road into town. They are given a couple of bunches of the white wine grapes, and they give one to us. It's sweet, but the skins are a little bitter). Upon seeing the town (a thorough tour takes two minutes, on foot), we descend back toward the train station using the stairs. From there, we intercept the footpath to Manarola.






There's a rock "beach" just east of Corniglia, but it's inundated with crashing waves. The cabanas seem rather empty for a Sunday, probably because of the stormy seas. We keep walking until we reach a locked gate, with ominous signs on it. The netting on the gate is peeled back, and we've met dozens of people coming from Manarola, so the danger can't be too great. We squeeze through the hole, resolving to be very careful. Eventually, we do encounter some narrow (3 foot) bits in the path, some broken steps, and some wet and muddy sections. It's nothing terrible, but they are enough to tweak my acrophobia a bit. The views are spectacular. Waves crashing. Salt water spraying. Cliff vibrating. We stop at a shady spot with a bench and a fabulous view, and munch a couple of focaccias we bought in Vernazza:
onion -- delicious, but too damn salty. I can make this better at home
pesto -- good, too, but also too salty!
As we prepare to leave, Peggy and Ray come along from Manarola, to have lunch on "our" bench. They warn us of another locked gate at the Manarola side, and this one lacks a convenient hole. You have to swing your pretty pink ass around the gate, which hangs over the steep cliff side. "Don't worry," Peggy says, "If I can do it, you certainly can."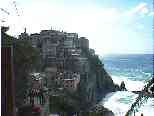 We press on, past slippery stairs and all; swing our butts around the gate, and arrive at another (yawn) spectacular view, this time of Manarola and its harbor. This is a much smaller inlet than that of Vernazza, and the seas are really crashing in here. (This is the Mediterranean?!) And the houses are painted in different pastels. Very nice.
We walk through town and pick up the footpath again, to Riomaggiore. This stretch of the path is billed as the "Via del Amore" (the Path of Love -- oh no, do I hear Deano?). The path starts very poorly, with a walk through a very ugly tunnel. Then we reach the developed portion, which includes a small board for love messages, and some cute wall paintings/graffiti.
Along the way through the Via del Amore, we encounter the fellow from whom we bought Brigid's pendant. We also are accosted by a photographer, who urges us to pose for his camera in an embrace. A souvenir photo? No, grazie.
Riomaggiore is nice enough, but there's nothing much to see. We take Rick Garman's suggestion, and follow the road through town to another boat landing and rock beach. It's nice, too, but also inundated with waves. Our bathing gear will remain dry, this day...
Back down the Via del Amore to Manarola, and we have lunch at Il Porticciolo di Botto Giuliana:
Spaghetti (trechetta?) Pesto. This is the best pesto, so far. Nice and thick this time, and very flavorful.
Linguini al Batti Batti. Am I batti batti? Well, I gather that batti batti must be some kind of seafood or meat, since they also offer it grilled. I decide to go for it, without asking what it is. Boy, did I luck out! Batti batti turns out to be a large (rock?) shrimp. The shrimp is cut in half lengthwise. One half appears to have been used in the sauce, which is a light orange, and probably made with cream, shrimp broth, and herbs. It's thick and luscious, and contains bits of shrimp meat. The shrimp's tail is sweet and delicious, as is the juice I suck from the head and body (a lesson well-learned from eating crawfish).
The cost is L35,000 ($21) with tip. And well worth it. Later on, we learn that Rick saw us perusing the menu while on the way to Riomaggiore. He was enjoying the "spaghetti porticciolo," the house specialty seafood pasta. I sure hope this place is still as good when we return here on our own, some day (soon, I hope).

Back at the hotel room, we shower, and Brig naps while I read a Wall Street Journal (Friday-Saturday European edition, picked up the preceding day, in Florence) and update our own travel journal.

Dinner is at 7:30, at Il Castello. We have a little surprise planned for Gene. He mentioned to someone that he had never had a party for his 40th birthday, because he was too busy leading a tour at the time. He supposedly admitted to regretting this. Laura decided that it's never too late (though Gene is 42 this year), and arranges birthday cards, gifts, and decorations. Robert adapts the first verse of "Jean, Jean" (by Rod McKuen, from the film, "The Prime of Miss Jean Brodie") to sing for the guest of honor:
Gene, Gene, you're young and alive,
Come out of your half-dreamed dream. (this is the original line -- we don't know Rob's version)
And run, if you will, to the top of that hill (pointing to Monterosso)
Come back to the bus, buddy Gene!
As the sun sets behind Monterosso, we await Gene's arrival at the Castle restaurant. He shows up slightly late (he was apparently trying to locate straggling tour members, and was puzzled not to find any), and is clearly stunned. Speechless, even! Especially after "Happy Birthday" and "Gene, Gene."



| | | | |
| --- | --- | --- | --- |
| Speechless? Not for long! | Our party animals, Lora and Julie. | "Daniel, Your Waiter..." takes orders while ominous clouds gather... | Vernazza's harbor takes a pounding. (Viewed from the Castello.) |
Gene's birthday gifts consist of several entrants in the "most tacky souvenir" contest, and a blue-haired troll doll (with a gift-box body, no less). You remember troll dolls from the 70's? Well, they're ba-ack!
Dinner (orders taken by Rick, in the role of "Daniel, Your Waiter this Evening" again, and served by restaurant owner Maximo) includes the following choices:
Primi piatti:
Pesto lasagne (combining two of Brigid's favorites, it was an easy choice for her. The lasagne was very rich, but not very pesto-y)
spaghetti with zucchini and saffron-cream sauce (this was my choice: although there were only two or three strings of zuke, it was tasty)
...?... Sorry, I forgot the third alternative. There was one, though.
Local white table wine and water were included. When we ran low on wine, Brig tried to ask for more. Maximo personally introduced himself to her, and then walked away. Eventually, he came back with wine bottles for everyone, and handed one to Brigid, "This is only for you!" Brig proceeds to refill everyone's glasses from her bottle. I take a sip, and pronounce, "It's water!" Maximo pops out laughing, grabs the bottle, replacing it with the real thing.

Suddenly, we notice that the restaurant staff are setting up canvasses on the unenclosed sides of the cafe. Through the remaining open side, we can see an ominous cloud bearing down on us. Lightning begins to issue forth, and then a little rain. By this time, the cafe is mostly canvassed around. The wind picks up, and so does the rain and electrical effects. Some of the group start changing their attitude from delight to fear. It occurs to me that we are high on a hillside during a strong electrical storm. Rick an Gene usher folks away from the iron railing. The temperature drops 5 degrees Celsius as the squall charges past. It lasts around 20 minutes, and includes one nearby lightning strike that knocks the lights out for a second.

Eventually, the storm lets up (but the temperature never recovers), and Maximo resumes serving dinner.

Secondo piatti:
A local dish of sardines and potatoes. This was my choice, much to Brigid's distaste. I didn't quite catch the name of the dish (it starts with a "t"), but who cares. I'll never order it again. It's a little fishy, and not all that tasty. Brigid bravely tries a bite, and clearly wishes she could spit it out. Lacking a couth alternative (I should have offered her a tissue, dang it!), she determinedly swallows it, chased by wine, bread, and anything else that might wash the fishy taste out of her mouth.
Swordfish. Brig found this dish, a 1/3 inch steak, served in a tomato sauce with olives, to also be a bit fishy. She manages a few bites, and then pushes it at me. I finish mine as Linda tries the same maneuver. No thanks, no can do.
Veal Schnitzel pizzaiola, with fries (!). This must be for visiting Germans. Lois had it, and said she enjoyed it.
Then, Maximo brings out a few trays of small biscotti, and a couple of bottles of Schiacchetra (the local fortified sweet wine) to dip them in. Brig and I enjoy the Schiacchetra with and without the biscotti.

As we prepare to leave, the waitress sets down a (cheese) cake before Gene, with lit candles. We sing another round of HB2U, and suddenly, the waitress breaks out ALL of the desserts! We (and the few remaining patrons) can have whatever we like. Gene expresses his delight with the slice of cheesecake he chose. Brig selects a ganache-covered 2 inch cream puff, and declares that nothing could top it. I go for a thin slice of tira misu. Also extremely good. We complement the staff, wish Gene HB one more time, and turn in for the evening.

Dinner cost L30,000 ($18) per person. That was a pretty good deal. I'd go back for the pasta and the desserts. And, presumably, they have some less fishy main dishes.

Things to do upon return to the Cinque Terre:
Relax and enjoy the ocean sights and sounds, especially at Gianni's rooms
Try the Spaghetti Portocciola in Manarola
Try the walk to Monterosso (but only if I've conquered my acrophobia)
Swim in the Mediterranean (but only if the seas aren't so stormy!)