Breakfast: same old thing. There'll be no further mention of breakfast, until it starts to vary significantly...
We have 3 hours to explore Segovia. According to the guidebook, the cathedral opens at 9. The book is now wrong. It opens at 10. So, we mosey on down to Alcazar, the 19th century reconstruction of the town's castle. It, too opens at 10. So, we relax outside the castle, with Brig's head in my lap, and me reading the guidebook to her. Not much to Segovia, so I'm reading mostly about Madrid (tonight's destination).

Alcazar -- a "castle" and armament museum.
(No, the tower isn't warped. I just did a lousy job of stitching photos together!)
Alcazar (the moorish, i.e., Arabic name for a castle) is okay. It looks more interesting on the outside than the inside. Actually, the most interesting thing in Alcazar is the armament museum. It has exhibits on the manufacture of cannon, various samples, minerals used in the making of gunpowders, other minerals (including several that don't seem to have much to do with armament, such as an emerald embedded in a stone along with pyrites), early concepts about ballistics; etc. It would be even more interesting if English translations of the exhibits were available.
Then we go back up the hill to the cathedral. There's very little to see here. It's a nice enough building, but not nothing of interest to us.

Señor Martin, a leather craftsman.
And Brigid's great bargain, of course!
On the way back to the hotel, we take note of a leather shop. Brig tries to interest me in a wallet (I ain't ready yet), so I parry with a handbag. She falls for it, and we go in. This is clearly an artisan's shop. Señor Martin gets up from his sewing machine to welcome us in. He's working on a pocket that goes on the back of a leather backpack -- a beautiful piece, but nothing that we're interested in. He's doing excellent work, though. He shows us a couple of handbags, one of which has a beautiful suede upper section, and a lower piece with intricate cutout work, but an impractical drawstring-like closure. The next piece, though, is really clever, with a zipper top, snap closure, zipper-split strap to turn it into a back- (or front-) pack, a zipped inside pocket, and a leather lining. He wants 13,000 pts ($72). I suggest to Brig that she not insult the man by bargaining -- it's already a fabulous price, considering the quality of the work, and the clever design (which, admittedly, is not necessarily his). She takes this into account, and offers 11,000 ($60). Señor Martin seems happy to accept our offer. After a photo, and kisses on the cheeks (only for Brig!), we get his card (complete with email address, pacomc@teleline.es), and say goodbye. Did I mention that Señor Martin speaks no english at all?
Back at the hotel, Brigid is eager to show off her acquisition. There seems to be a consensus that this bag would probably fetch more like $150 in the U.S.
I purchase a bag of huge, thin, rice cookie wafers (ing: rice, sugar, egg), a dozen for $1. Very light, not too sweet. Nice. We share them with the group.
Back on the bus! We stop at La Granja, a mini-Versailles built by the Bourbon kings, who were apparently a little homesick. We set up a picnic under the trees that line the driveway. We have:
| | |
| --- | --- |
| La Granja, the Spanish Versailles | Lunch al fresco, under the trees of La Granja |
Lovely, hard-crusted "sub" rolls, already split; thinly-sliced Iberian ham (Jamon) and salami-like sausage; a local hard cheese made from goat's and cow's milk (sharp and delicious); tomatoes, cukes, raw red bell pepper; nectarine slices; vino, blanco y tinto (white and red wines); agua (sin gaz); miscellaneous juice drink boxes. For dessert, Susan opens up a package of bite-size pastries she bought in Segovia, and Tooraj cuts up a persian melon. Very refreshing.
We visit the Granja, but only to use the toilets.
I sleep off lunch to the sounds of spanish guitar on the bus' audio sysem. Hotel Europa's room 311 will be our home for our two nights in Madrid. No aire aconditionado (A/C), but the room is clean and reasonably comfortable, and has its own full bathroom.
Susan leads the group across the Puerta del Sol (Madrid's Time Square) to kilometre zero. This is the official center of Spain. It stands in front of a former post office, and now the seat of government. At the top of the building is a clock tower, in front of which folks gather on New Years Eve, to swallow 12 grapes during the 12 chimes at midnight. (It's for good luck.)
| | |
| --- | --- |
| Susan describes the Plaza Mayor, in front of the Royal Bakery | Another shot of the Royal Bakery |
Then, we walk past a Museo De Jamon (a chain restaurant whose name means "Ham Museum", and whose ceilings are hung with dozens of Iberian hams) to Plaza Mayor, the execution showplace of the Inquisition. The former Royal Bakery was recently renovated, and is beautifully painted with various colorful figures. The Plaza is ringed with cafes, and is well insulated from motor traffic.
Next, we follow Susan to Plaza de Santa Ana, which is nearby to our dinner destination, and has several inexpensive cafes. Most of the groups take Susan's suggestion to spend the next 15 minutes at a cafe. We decide to walk around the plaza, looking at the choices. Lots of temptations, but we hold out for dinner.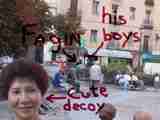 Scene of the (foiled) crime!
We rejoin the group in the center of the plaza, walking past one group of kids, and then past another who are lighting up a reefer. Jack I. informs us that this first group of kids had been circling our tour group, particularly eyeing Jack, looking like they were casing us out for a wallet-lifting. They appear to be controlled by a slightly older fellow, who generally stays separated from them, but periodically rejoining them, probably to give orders. I have to agree that these folks certainly look suspicious. I manage to snap a few shots of Fagin and his boys before we head for the restaurant. Uh-oh, here come the kiddies, armed with ice cream cones. (Steve had been given the ice cream treatment on La Rambla 2 nights ago -- kids throw ice cream on your back, and a nicely-dressed gent offers to clean you up, and lift your wallet -- Steve managed to avoid that last part.) Two of the boys nonchalantly approach Jack from the rear, getting closer, and winding up for the pitch. I double back and face them, with full eye contact, and offer a loud, "Ola!". One kid turns around, the one with eye contact returns a nervous "ola", and recedes. Very brazen, until confronted.
Our restaurant is La Trucha. We have another tapas dinner, consisting of:
cerveza, agua, y sangria; canapes with smoked salmon, smoked tuna, smoked eel, and caviar; thin slices of eggplant, deep-fried with a very light batter; stuffed mussels and ham/cheese croquets; deep-fried pinky-sized green peppers (mostly sweet, but a couple are slightly picante); deep-fried calamari rings; deep-fried skinny asparagus; tortilla (much lighter than what we had in Barcelona); mushrooms with bacon chunks and dabs of some kind of dairy (sour cream?) product; and a shot of espresso (good, but still not like what we had in Vernazza, 2 years previously). I enjoyed the meal a lot, but I'm beginning to look forward to returning home, and gorging myself on fresh veggies for several days, to counteract all this fat and fried protein!
On the way back to Puerto del Sol, we're cased by a group of "gypsy" women, who are either completely innocent, or smart enough to recognize a group who are remaining aware of their surroundings, and are protecting each other.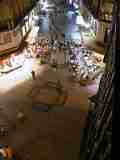 The night life, beneath our hotel window.
Back at the room, I eat my evening grapefruit (still too bitter!), finish the day's journal entry, and read some more Moby.
Buenos Noches, amigos!