Breakfast: Same as yesterday.
We hike down to the gondola station, and ride down to Stechelberg one last time. Then it's back on the bus, this time bound for Beaune, Burgundy, France via Basel, Switzerland. In Basel, Rick and Gene buy supplies for a picnic lunch for us, and then Gene tries to outguess the weather while choosing a rest stop in France along A36. He succeeds in choosing a stop that avoids the rain which has been plaguing us, on and off, since we left Lauterbrunnen.
Unfortunately, none of the picnic areas at this rest stop are serviceable. They are being "worked on". We set up the food on some benches, and eat on our feet. (Gene later jokingly suggests that this is traditional pour le pic-nic.) Anyway, here's lunch:
sandwiches. Mine is mozzarella, tomato, and lettuce on a poppy/sesame mini-baguette. Brig's is a salami and cheese on a mini-baguette.
pickled cornichons and garlic. The garlic is crunchy and delicious.
wine: Merlot, Blanc de blanc, and a Mosel. The Mosel is rejected by most as too sweet (I thought it was nice, but Brig said it had too dry a finish).
plums and bananas
carrot sticks
Lindt chocolate assortment for dessert
Finally, we arrive in Beaune, the wine capital of Burgundy (Burgogne), but not the political capital, which is Dijon, to the north. We arrive early, just after 3:00 PM. This leaves us time to look around before the walking tour Gene has arranged.

We head for the Casino supermarché, two minutes from our hotel (Le Grand St. Jean, on Place Madeleine).

The produce stand is well-stocked and (at last!) pick-your-own. The prices aren't too bad, either. The really impressive counter is (big surprise) the cheeses. They devote perhaps 20 feet of refrigerated glass counter space to cheeses of countless (okay, Rick claims 400+) varieties. The pastry counter is also fantastic, with all sorts of mouthwatering goodies. And then the sausages, and prepared foods like boeuf bourgognan, or kidneys in madeira and mushroom sauce, or... And that's the service counters. The self-serve counters have more cheeses and other goodies. The fresh fish counter looks good, but seems slightly more expensive than we're used to. It includes several varieties of bivalves (like clams and mussels) that we never see. And there's around 10 feet by 3 or 4 shelves of chocolates!

And we never even got a chance to look at the wines.

The group assembles in the hotel's lounge, to await the walking tour. Le Grand St. Jean's lounge has been dubbed The Acid Room. Each wall is a different color, and the carpet is yet another color. We're talking maroons, burnt oranges, and dark greens. A bad acid trip. In this unique decor, Rick and Gene introduce us to the local cocktail, called Kir (crème de cassis and wine -- see below). After this fortification, our walking tour guide (Marie, I think) introduces herself, and leads us through the town center.
The walking tour was interesting. The area had once been part of the Netherlands, then its own, independent duchy. There was a lot of Belgian influence at that time. The local specialties include
cheeses: citeaux; and époisse, which is marinated in the local brandy, called Marc
liqueur: crème de cassis, a liqueur flavored with black currant, and supposedly very rich in vitamin C
cocktail:

Kir Royale: same, but with champagne instead of white wine

they also appear to make a spice bread (pain d'épices) that lots of places sell. I never did get a chance to try it in Beaune
a dish made from ham and aspic infused with parsley and other herbs
The Hôtel Dieu is the main tourist attraction. It was a hospital in medieval times, and offered care to the indigent, and more comfortable care to the wealthy. The most interesting artifact is an altar painting by Dutch painter, Roger Van der Weyden. It's a Last Judgment, very colorful and intricately detailed. In particular, Archangel Michael's clothes, and his wings (of peacock feather patterns) are incredible.

After the tour, we drool on several patisserie storefronts and counters. I encourage Connie K to purchase one of the corkscrews we have used successfully for years (FF26 = $5). In return, later on, she causes us to buy a couple of mini-bottles of Super Cassis and wild strawberry liqueurs.

Pour le dîner, we follow Gene's lead to a restaurant a few doors from the hotel, called Relais de la Madeleine. Brig takes the FF68 menu, and I splurge with the FF90 menu in order to get both cheese plate and dessert (what a pig!). A bunch of us get together to buy a dozen escargot (FF58 = $10). Here's what we ate:
terrine de canard (duck liver pate -- nice, but rich)
jambon -- this is the ham with parsley aspic
bread -- good french bread, of course
boeuf bourgognan -- Brig liked it a lot, but the portion was too large for her. It was served with small, boiled potatoes and a carrot puree. The beef is supposedly from the local white steers that are supposed to be so tender. I thought the dish was ok, but nothing exciting
truite soufflé -- this turned out to be a trout with some sort of fish paste piped in prior to baking. It was good enough that I finished it all. The trout meat was better than the "soufflé," though. Truite Meuniere (available on the FF68 menu) would have done the trick just as well.
platte de fromage: The waitress became annoyed with my attempts to ask what is what, so she just cut me a piece of each, around 5 different cheeses, including époisse and chêvre (goat cheese). I'm afraid I enjoyed them all, though the epoisse seemed a little bitter at first.
creme caramel - flan, by any other name. Nice, but it's just flan.
pomme tarte - excellent apple tart in a flaky crust.
At the meal, we wish Rob a happy birthday. We also celebrate Johny Vos' last dinner with us. This was commemorated with
a lyric by Rob to the tune of "Thunder Road" (which is apparently known only to Rob and Donelyn).
yet another encore of Edelweiss
Mike's very clever semi-haiku tribute to Johny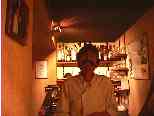 The chef, Monsieur "No Problem" Neaux, pops out a couple of times to introduce himself and/or to ask how we are enjoying the repast. This guy is a true character. We pull out the camera, and he and his moustache ham it up for us.

Things to return for:
Wine tasting at the Marché aux Vins. Since we only had one evening in Beaune, there was time for either the walking tour, including the Hôtel Dieu, or the Marché aux Vins. We chose the former, this time. I'd like to go back to taste some good Burgundy wines.
Try more of the cheeses
Try the pain d'épices.