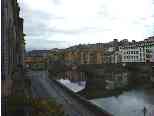 Breakfast: rolls or factory pseudocroissant, spreadable cheese or preserves, coffee; yogurt; a citrus juice of some sort.
We head out for a walk through Florence, beginning at the Uffizi Gallery, 5 minutes from the hotel, and right next to the Ponte Vecchio ("Old Bridge," which seems to have shops and even residences on it).




We check out some of the paintings and sculptures by more famous superstars of the Renaissance. My favorite item is a recently-restored Michelangelo painting of Madonna and Child. The colors are gorgeous, and the body positions are marvelously natural (as opposed to nearly all other Madonna and Child paintings, with their stilted and stylized poses). I also enjoyed Botticelli's Primavera (a beautiful woman portrays Spring, vomiting forth flowers while escaping Winter's clutches, etc.). Of course, the most famous item on display is Botticelli's Birth of Venus (Venus on the halfshell?). It somehow didn't do a lot for me. There were also nice views of the Arno River, and of the Palazzo Vecchio, and the Duomo's dome. And it was fun to watch Gene play dueling tour guides with several Japanese groups.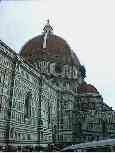 Next, we walk to the Duomo and the nearby Baptistery. The Duomo's facade is very striking. The Baptistery's bronze doors are nice too, but they are reproductions, and are crowded by tour groups. We later studied some of the originals at our leisure, at the (albeit poorly lit) Duomo museum.
On our own again, we climb the Duomo's campanile (bell tower), also known as Giotto's Tower. As we reach the level just below the bells, they start ringing out 11:30 AM. They keep ringing for about a minute. The sound is not quite deafening, but even with closed ears, the low frequencies come through your shoes from the tower structure. We climb to the top, and are rewarded with a fabulous view of the nearby dome, and the city.

| | | | | |
| --- | --- | --- | --- | --- |
| What time is it, anyway? What time? I can't hear you! | A dizzying view down the center of Giotto's Tower. | The Duomo's Dome, as seen from Giotto's Tower. | Hang on, Brig! | A view of Florence from the Tower. |
Back on the ground, we grab lunch at the Bistro Bigallo:
Pork with mushrooms. Very good.
Parsley potatoes. Eh.
Eggplant rolled around cheese, with tomato sauce. Good.
Ravioli with spinach and ricotta, in a yellow sauce with marrow flowers. Very nice.
The "Medici Salad," which was wonderful. It consisted of

romaine lettuce (or similar)
dandelion greens
brined black olives
pine nuts
chunks of parmesiano cheese
sultanas (golden raisins to you Yanks)
thin strips of ham

1/2 liter of white sparkling wine, which was delicious, refreshing, and not too dry
1/2 liter of water (con gas o senza gas? senza gas)
L54,000 with tip, or approximately $32. For lunch. Ouch.

We try for the Bargello museum, but arrive at 13:20 with a 13:50 closing time. Damn.
Plan B: The Duomo Museum. This works out nicely. There are several models for the Duomo's facade and dome, tools and forms used in construction of the dome, etc. Michelangelo's later Pieta (Jesus held by Nicodemus, Mary, and Magdalene) is interesting, but not tremendously so (for me). Actually, my favorite items there are:
Donatello's wood carving of Mary Magdalene. She is wiry, ugly, somewhat masculine in the face, and clothed primarily in her own matted tresses, or so it appears.
Pieces that used to be on the facade of the Duomo. These are sculptures on themes of Virtues and Virtuous occupations. (Sorry, I didn't get any photos. You'll just have to go look for yourself.)

Next, we track down the Vivoli gelateria. According to Gene, this has been the favorite gelateria in Florence (the center of gelato culture in Europe) of most previous tour groups. And we can certainly see why! They have more flavors than any other gelateria we have seen. I somehow failed to count them, but it was well over two dozen flavors. And we ain't talking artificially flavored anything. These guys have the Good Stuff! We tasted:
lemon (just as good here as anywhere else)
peach
rice (yes, rice! with some chewy bits. Yes, it's good!)
blueberry
blackberry
pistachio (the absolute winner of the trip. This one tastes of genuine pistachio nut butter.)
ciacollota ricci (rich chocolate. it sure is)
We truly miss the gelato italiano. We went looking for gelato in San Diego:
We tried some pistachio "gelato" at Del Mar Plaza. What a sad reproduction. (It makes Einstein's ersatz bagels look good.) There were ice crystals in the stuff!
On the other hand, the Gelato Vero shop on India Street has pretty good stuff. They rate as well as a slightly-less-than-mediocre italian gelateria.
Back to the hotel for the "tackiest souvenir" contest. The top winners:
A miniature smoking pipe, complete with penis mouthpiece, suitable for smoking a joint;
A pen holder in the shape of Florence's famous landmarks, but in the wrong colors, with sparkle dust, made of dried play dough, and with an unstable pen socket.
Off we go, in search of a coin-op laundry. We cross the river, and end up on the wrong street. After walking a couple of extra miles, Brig asks about the coin-op in a dry cleaning shop. They put us on the right track, and we find it. While washing, I go in search of some vitamin C (Brig may be starting to pick up that hand-me-down cold that's going around the bus), some OJ, and some bottled water. I return and immediately stumble over the step that runs through the middle of the coin-op shop. Damn thing. (I trip over it one more time, but get the satisfaction of watching one other guy stumble on it, too.) We head back to the hotel, picking up some "dinner" in the form of some hours-old panini to eat in the hotel room. The panini were barely edible, but we were too pooped and run-down seek out and enjoy real food.

Brig tries to take a shower. Hmmm. The sign on the bathroom door says "Run hot water for a few minutes before taking a shower." Define "few" and "hot". We run it for 15 minutes, and it never gets above 70 degrees. Both red and blue settings do this, though the wash basin has hot water. What a dump!

...and lots of mosquitos, by the way. Why can't these folks put screens on their windows? Either screens or air conditioning! The former are much cheaper.

Vernazza has to be better than this, doesn't it? Please?