No time for breakfast at the hotel. We catch an early vaporetto back to the parking lot. The vaporetto (#82) ride down the Grand Canal is interesting. That is one busy bit of water: vaporetti, trash boats, taxis, luggage boats (for the cruise ship passengers, I guess), what appear to be gondola/ferries (looks like a gondola, but with two oarsmen -- they seem to be shuttling back and forth across the canal), and assorted private boats, all coming within inches, and no collisions (that we saw).
We arrive at the parking lot stop (end of the line for vaporetto #82), and Rick is there ahead of us, with caffe or cappuccino, and some of the pastries scrounged from the hotel.
This is a long, boring bus ride, punctuated by...
A game of Travial Pursuit: Gene asks some question we ought to have learned about on the trip so far (if we've been paying attention). The winner gets their choice of a Mozart Ball (milk chocolate around nutella-like stuff, around a green nut paste -- almond? pistachio? They're okay, but not worth buying) or a shot of chocolate liqueur. Typical question? "Who has the highest tech flashlight?" Sheesh.
Snack of a spinach panini at an AutoGrill highway rest stop. I think the brand name for these things are "Lunotti" or something like that. They are semi-circular, and vaguely reminiscent of a half-moon, hence the name? Anyway, these things showed up at nearly all the AutoGrill rest stops in Italy. They're pretty good.
Lunch at another AutoGrill. These highway rest stops are generally much better than the equivalents that I've visited in the U.S. (I'll tell you about an exception as soon as we reach France.) For instance, here, we had:

pasticcio de lasagne (again!?) for Brigid. Yes, that's the third serving of lasagne in as many days.
antipasto misto: fresh mozzarella balls and tomatoes (very disappointing -- neither had much flavor), rice and olive salad (good stuff), potato and ham salad (okay);
a chunk of parmesan-like cheese (very good);
1/4 liter of red wine;
a roll and a slice of italian bread

Gene passes out a copy of the latest version of a Student Blooper View of History (standard Internet fare). Giggles all around the bus.
We arrive in Rome, at the Hotel Alimandi, a block from the Vatican Museum. All the keys are handed out. We are still standing there in the lobby. ? Rick explains that Mr. Alimandi will show us to our room. Signore Alimandi leads us out the door, across the street, to a locked apartment building door. He holds up a key on a keychain, and explains, "Big key, big door." Unlocks the lock. Locked lobby door: "Small key, small door." Unlocks lobby door. Leads us to a very cozy elevator, which just fits the three of us. (I immediately think of Peter Sellers in Being There: "This is a very small room."). A stairway spirals around the grillwork-enclosed elevator shaft. "Third floor," he presses the button and up we go. "This key, this door", opens door to an apartment suite. "This key, your room. Bathroom across the hall, only for you. This used to be my brother's apartment." We have this spacious room and bathroom all to ourselves. (Later, we learn that Johny is lodged in another room in the suite, with its own bathroom -- there appear to be three rooms in the suite.)
| | | |
| --- | --- | --- |
| Our room in Roma... | ...with a view of fellow tour-ists in Hotel Alimandi... | ...and a view of another country: That's the Vatican Museum, behind the wall. |
After a quick rest, we gather for a taxi ride to the Piazza Navona, for a brief orientation walk. We share the cab with Ling and Ray. All I can say is, this is an "E ticket" ride (for you aging Disneylanders). Manhattan and Boston drivers are polite, milquetoast drivers compared to the aggressive Romans. Every traffic light is a confrontation. Every motor scooter or car pulling out of or into a space causes a rapid readjustment of traffic flow. The taxi driver knows his vehicle to the millimeter, and uses every last micron when he needs it. An oh-so-cool 20-something beauty, dressed like a refugee from a Fellini film in leather and shades, pulls up next to us on her bright red motor scooter. (Sorry, but it would have been far too uncool for me to try to photograph her for you!) A half dozen near misses and incredible maneuvers later, and we arrive at the piazza. L18,000 ($11) was cheap for the fun. Now, if I had to do this on a regular basis, I might be concerned (about the safety aspects.).
Gene points out several restaurants around the Piazza Navona, and leads some of us to a nearby alternative, the Campo dei Fiori ("field of flowers"). This is where you can find restaurant La Carbonara. Yes, that Carbonara. (This also happens to be the location of the Roman Senate at the time of Julius Caesar. It was here that he was assassinated. And, according to Conde Nast Traveler, a millennium later, the Church used to burn heretics to death here.) Brenda joins Brigid and I in our attempt to eat at La Carbonara. "We're closed. Go two doors down." We follow directions, and eat in a cafe where we enjoy:
an antipasto buffet. The ladies let me choose, so it's eggplant city!

marinated eggplant
stuffed eggplant
marinated portobello mushrooms
stuffed pepper
cold seasoned spinach
marinated onion


[At this point, the ladies chastised me for not piling our plate high with the goodies (there were at least another half dozen selections I would have loved to try). I was concerned about being the Ugly American, so I used restraint you would never see if you were to observe me in a Souplantation. Later, Gene vindicates my decision, saying that Europeans do tend to be much more restrained than Americans when it comes to a buffet. The ladies, upon hearing this, declare that this doesn't matter: I should have gone for it! Oh well: Ugly American or chintzy provider. You can't win, sometimes.]


fettucine con vongole (clams). Very good.
saltimbocca (veal with ham in a white wine sauce). Also, very good.
1/2 liter of fruscatti (the local white wine -- very light and nice).
On the way back to Piazza Navona, we visit a gelateria, for dessert. Mmmmmmmore limone for me!

As we arrive, it starts to rain. Brenda negotiates with a cart vendor for another umbrella. We pull ours from the daypack. Many of the schlock vendors wash away with the rain. By the time the tour group has reassembled, the rain has stopped. Rick and Gene lead us on a stroll from the Piazza Navona to the Pantheon (outside only, today), to the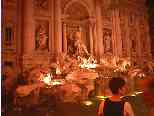 Trevi (three coins in the) Fountain, to the Spanish Steps. The basic theme is how the ancient lives side-by-side with the modern. The Pantheon, one of the oldest and best preserved structures of Ancient Rome (built in 120 AD as a all-under-one-roof pantheistic temple) exists cheek-by-jowl with cafes, gelaterias, traffic, etc.
On our walk, we quickly learn that the technique for getting through Roman traffic is similar to what we used in Beijing: Look for a gap, have faith, and proceed steadily. Neither falter nor bolt. The scooters and cars will either stop or go around you. It works! At least, it used to work in Beijing bicycle jams. It works with Roman motor traffic.
Back to the hotel via the subway. Big key, small key, suite key, room key, bathroom, another batch of clothing in the sink, bed!