What a beautiful breakfast:
cold cereals, including the usual flakes, muesli, and several whole grains, of which I only recognize millet;
milk or yogurt;
marble cake, rye bread, sesame pumpernickel breadsticks, rolls, danish;
several types of cold cuts, emmenthaler ("swiss") cheese;
a dozen different bread spreads, including heidelberry (huckleberry) and johannesberry (red currant)
Neuschwanstein (nuy shvan stine) in the pouring rain... Beautiful, but again, no indoor photos are permitted. Swan motif everywhere (you know, as in schwan?), and Wagnerian opera figures and paintings. Ludwig 2 "finished" the castle in 1886, and lived there only 6 months before being arrested for lunacy, at the age of 40-something. He then died under mysterious circumstances.
The setting is the Bavarian foothills to the Alps. Streamers of fog weave between the hills. An excellent view of the castle is visible from Mary's Bridge, about 1/4 mile away, situated 100 feet above a waterfall. Neuschwanstein is dedicated to Ludwig's friend, Wagner.
We forego an hour-long hike back to the hotel in the rain, and take the bus back, instead. The bus gets caught in a terrible traffic jam (this is a Saturday, and everyone wants to see Ludwig's castles), so the hikers get arrive well before the bus. But, we're dry!
Schluxenhof had not been expecting to feed us today (we were supposed to have a picnic lunch and then go to see the ruins of Castle Ehrenberg (a real castle as opposed to Ludwig's fantasy castles). Gene arranges for the hotel to provide an impromptu lunch, which consisted of:
salad bar;
a soup of frankfurters, thin noodles, and vegetables;
some bread
Not exciting, but not bad on such short notice.

We hop back on the bus to see another of Ludwig's fantasy castles, Schloss Linderhof (a "schloss" is a palatial home, while a "berg" is a castle). Linderhof is dedicated to Louis XIV and XV. All is thoroughly ornamented and gold-leaved. Opulent, but supportive of Ludwig's solitude.

| | | |
| --- | --- | --- |
| Ornate ceiling work above Ludwig's throne at Schloss Linderhof. | An incredibly detailed porcelain chandelier. | You should see this fountain when it is turned on. Sorry, I missed it. |
A couple of other goodies to see at Linderhof:
There's a fake cave (a "grotto") with pond and swan-boat, all merely to provide an opera stage with one (count them, ein, uno, un, achat) box seat! The grotto was lit electrically (hmm... was it really lit electrically when it was built?), with three different color combinations.
A "moorish kiosk" done in byzantine style. Red and blue stained glass windows surround a fountain-like structure inside. The suggestion was made that this structure is simply an ornate hookah pipe (and possibly not for tobacco, either). Could be, but I don't see any attachment points for hoses.
On the way back to Reutte, we pass a large, blue-green lake, surrounded by hills, and even a snow covered mountain. There are waterfalls everywhere. What gorgeous viewscapes!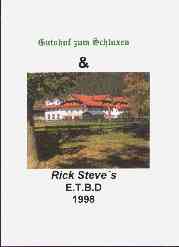 Dinner:
This was a buffet feast, consisting of:
salad bar;
cream of pumpkin soup, served in a huge, 2 1/2 foot pumpkin. Just a little too salty, but otherwise, delicious;
fried potatoes;
spätzle with ham;
cheese and spinach dumplings (a bit on the doughy side);
red cabbage (good stuff);
kraut strudel with bavarian sauerkraut (even better stuff. This is a little stronger than what they served in Munich, but very good.);
calf meat roast with pumpkin seed stuffing;
pork roast slices;
lamb chops;
steamed vegetables (cauliflower, broccoli, carrots), done perfectly;
spinach;
apple and cheese strudels with vanilla sauce and/or 1 inch ball of vanilla ice cream. The cheese strudel's filling is a dead ringer for blintz filling. Excellent.
After dinner, Brenda is presented with a birthday card and spectacular sundae (complete with sparklers). Then, an impromptu choir sings (what else?) Rodgers and Hammerstein's "Edelweiss".

[At a neighboring table, we meet a young couple who are using ETBD's materials to support their travels in Austria and the Dolomites in Italy.]