Earplugs, shmearplugs! Brigid slept well, but the trains didn't help me sleep. It's not the loudness of the trains, so much as the sudden onset of the sound. The tracks are so close by, there's no time for a buildup of the sound. They are simply there, and then they're not. And the earplugs aren't much help. Oh, well. It's not that bad. I got a little sleep.
We have another typical German breakfast: Some excellent ham, salami, a meunster-like cheese, halved hard-boiled eggs, tomato slices, crusty buns, grapes, homemade strawberry jam, OJ, and coffee.
Next, Herr Jung, a 67-year-old teacher and Bacharacher,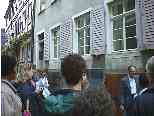 gives us an informative and humorous tour of his town. The town derived its Middle Ages prominence by the serendipitous position of a large quartz seam that made the Rhine non-navigable just upstream. This forced all cargo to bypass the quartz section by wagon, after which it would be loaded back onto the boats at Bacharach. This generated jobs and tolls.
Oberstrasse (Main Street) was originally very narrow. When Napoleon came through, his artillery didn't fit. No problem for him: Napoleon simply demolished the row of river-side homes. When the Bacharachers rebuilt, they left the (Roman-engineered) oberstrasse wide. To this day, though, the cellars of the (new) river-side homes extend quite far beneath the street.
As Napoleon retreated, he destroyed Bacharach's beautiful gothic catholic church, St. Werner's,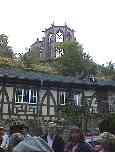 as a consequence of his attempt to destroy Castle Stahlek, which is situated above the church.
Debris from the castle fell onto the church, effectively destroying it. Several years ago, with the ruins falling into ever worse disrepair, Herr Jung assisted in fundraising and reconstruction/preservation efforts.
Herr Jung takes us up above the town, into the vineyards. The views of the town, the vineyards, and the Rhine are wonderful, despite the gray weather. Here are some of the shots we took from the vineyards:
[Herr Jung was 14 years old at V-E, and was desperately hungry (like most of the German population at the time). His ability to translate between German and English gave him the opportunity to correspond with a family in upstate New York. They sent him packages of food, and helped him survive.]
We bid Herr Jung farewell, and hop back on the bus for the trip down river to St. Goar, a few miles above the infamous Loreley Rock. We tour the town on our own. This seems like more of a shopping and picnicking town. We find a recent reconstruction of a church, with some fragments of the original inside -- not very interesting. More interesting are the bakeries, delicatessens, and even the supermarket. The bakeries have many tempting pastries. Very popular are the plum tarts and almond-topped cakes. Oh, and here is what JFK proclaimed himself to be:
The grocery store and delicatessens stock a huge assortment of sausages, bacons, and cheeses. While Rick and Gene buy our picnic lunch at the grocery store, we pick up some apples and cokes. Produce prices are reasonable: the apples are around $0.60/lb.
We then met at a park by the Rhine for a really nice picnic lunch.
After lunch, I follow Gene and Rick back to the bus, to offload some unnecessary items from the knapsack. Gene asks what other techno-toys I'm carrying, aside from the flashlight. I tell him about my Pilot, and he mentions that Johny also has some kind of palmtop computer that he uses a lot. Sure enough, as we arrive at the bus, Johny is sitting in the front passenger seat (in the stairwell), which he uses as an office when he isn't driving. He's plunking away at his computer. I make a note to ask him about this, later.
At a gift shop, we get a schpiel on how the ceramic beer steins are made. Brig ignores the steins and inspects their knife shop. We decide to buy a very nice cooking knife. (This knife will come back to haunt us, at the end of the trip.)
Then, we climb up to the Rheinfels Castle. This a nicely restored castle, situated (by its very nature) on a ridge with a commanding view of the river. After Gene gives us a brief tour, some of us grab flashlights, and explore its tunnels. While there, we almost bypass a stairway that seems to be closed off by a railing. Someone notices that one of the "railings" is actually an unlocked gate, which swings open. I decide to head down and report on what's below. I descend around 10 feet, and the flashlight reveals a long tunnel, perhaps 5 feet high and 3 feet wide. I enter, followed by Carl and Leslie. A few side tunnels result in dead ends, but the main tunnel extends for 20 feet, and then descends at a 20o angle. At this point, the tunnel is 4 feet by 2 1/2 feet, and pitch black when the flashlights are off. My courage reaches its end -- unless I'm being chased by something with fangs or a crossbow, I ain't going any further. Leslie and Carl pass me to continue exploring. They discover that some of the side tunnels used to form loops, but had been blocked off as a safety precaution (a child could get lost and confused in a looping passage).
A few of us climb up to the highest tower, for quick, damp (it's now raining lightly) view of the Rhine valley. Beautiful, but gray and wet. And besides, Brig has our camera. We dash down the hill, to wait for a boat back up the Rhine to Bacharach. While waiting for the group to reform, we take shelter from the rain under the gift shop's awning. The owner drifts out, and asks how we enjoyed the castle. We chat for awhile, and learn that, according to the shop owner:
In and about the Rheinfels Castle, there lives an endangered species of bat. There has lately been some talk of limiting some activities at the castle, in an attempt to preserve the bats. For one thing, they sometimes have night events, at which people carry torches (we had seen one or two discarded torches while exploring). These torches could be hazardous to the bats, and may be banned.
There are supposedly tunnels that extend from the castle all the way down to St. Goar, and even under the Rhine to the castle across the valley. He claims that the tunnel was still dry when it was sealed off for safety's sake.
It is claimed that there are several hundred corpses of Spanish troops sealed into a tunnel beneath the castles. They were lured in and walled in. (Sounds like an apocryphal story, to me.)

The cruise is useful only as a relaxing alternative to the bus. We enjoy zwei kaffe und apfel strudel in the boat's restaurant as the Rhine glides by, and and as the rain pours down, on and off.
Upon our return to Bacharach, I zip over to the bus, to pick up the items I dropped off. There's Johny, still plunking away at his computer. I decide to ask about it. It turns out that he has a Casio palmtop. I ask what he does with it. He says, "Email and the Internet. See? I have it hooked to my mobile [handheld] phone. That's why the [bus] door is open." Presumably, the door is open to let the phone receive and transmit. He says he gets around 19.2 kbps on this mobile link. Not as good as the 56 kbps he gets at home, but usable. Wow!
Finally, an excellent dinner! The Kranenturm serves us:
A beautiful vegetable soup, full of fresh carrots, celery, chinese cabbage, salt (too much, again!) and pepper. Very flavorful broth, and best of all, the vegetables still had some life in them.
A dinner salad with a light, subtle dressing. Lettuce (with a slightly bitter bite), some carrots, cucumbers, and a little pickled slaw.
A plate of chicken in brown mushroom sauce, and spaetzle drowned in butter. I ate every bit, though I shouldn't have.
Fresh vanilla ice cream (and a taste of Ling's portion of rum raisin, which was served to all the other tables).



What a shame Brigid decided to skip this meal!
I decide to pass on the Tacky Tiki Disco Lounge party. And Brig wants to continue her snoozefest...