Got out of the room by 0930, in time to grab a little breakfast in the dining room. Choices are:
hamburger-like buns or slices of dark break, or ak-mak
cheese (emmenthaler, I think)
cold cuts
corn flakes
soft-boiled egg
very strong coffee
orange juice
Brig and I leave the hotel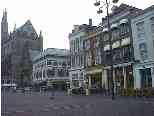 and walk around the Grote Markt area, and north to the train station. We walk around a park near the station -- very quiet and peaceful on a Sunday morning. Everything is closed. We're able to window-shop on the main streets, though.

Lots of "Indisch-Chinese" (Indonesian) restaurants, and shoarma fast food (like Lebanese shwarma?).

A very pretty wrought iron spiral candle holder in a shop window catches our eyes. Good thing the place is closed. Like we need a candle holder...

An enticing bakery...
Along the way, we spy a big electronic sign over a bus stop. It's got on honking long number on it, and it's counting down. I do a quick calculation, and decide that it is indeed counting down the seconds to January 1, 2000. A Millennium (minus 1 year) clock! How silly.
The Grote Kerk, next to the hotel, is only open during business hours. This church is basically only a museum now, and is (!) Closed On Sunday. What a shame. The church reputedly has the best organ in the Netherlands.
Brig poops out and returns to the hotel around noon, after we share a soda at the McDonalds across the Grote Markt.
I go walking in search of Haarlem's Red Light district. I'm just looking! Really! Well, I didn't find it (really!). Instead, I found:
The Hemp Museum: What a hoot! Admission is free, or you can pay a minimal fee for a guided tour. I'm not interested enough to pay anything, so I decide to guide myself. There are

several "alien" dummies (the style known as a "gray") depicted as taking a toke;
hemp-based clothing for sale as souvenirs;
a showcase of hemp products, including Space Hemp beverage;
a hemp plant growing under artificial lighting;
a display case explaining how it is legal to sell products made from mastodon ivory (mastodons are no longer endangered, you see -- our ancestors already extinguished them), and including several lovely reefer holders made from mastodon tusks

A kayaker in a Haarlem canal
Upon returning to Grote Markt (okay, so I was lost for awhile, until I caught a glimpse of the Grote Kerk tower), I notice a woman who looks a little befuddled. She's consulting a green soft cover book, about the size and shape of the BOE tour member handbook. I introduce myself, and direct her across the square to the Hotel Amadeus. She is Brenda.

I join Brig in the room, and at 1700, we descend to the hotel's breakfast room/bar for the orientation.
ETBD pays for an impromptu cocktail party, paying for the first round (wine or beer or soft drinks) and offering some crudité, fruits, & cookies. We grab some goodies and meet the tour group, including Brenda, our fellow Mira Mesans Peggy and Ray, tour leader Gene Openshaw
, assistant leader Rick Garman, and the rest. Rob introduces himself, and manages to make enough of an impression that I manage to crowbar him into my terrible memory for names. And Gene introduces the "buddy" concept, and forces us to all select one person outside of any existing family/friend group, to provide a backup method for determining when someone is missing from the group. Brig selects Brenda. I hang back and wait. Eventually, only Mike and I are left, so we buddy with each other. One more name to cram in there right away.
The group seems to include 1/4 current or former computer types, and 1/4 current or former medical (nurses and dental assistants).
After the orientation, we join Gene, Rick, and our Haarlemite guide Hans, on a guided tour of Haarlem's Grote Markt area. Of interest:
Sidewalks outside a business are often cobbled in an appropriate pattern. For instance, a bookshop has an upside-down chevron that looks like an open book; an apothecary has what looks like a mortar. These are, of course, a traditional element that must be restored quite often. The bookshop, however, has apparently been a bookshop for hundreds of years.
Homes often have a decorative stone or ceramic decoration above the door, which says something about the family living within. We saw a rooster; Saint Theresa (?); and a gay couple's design with a pineapple, a black dog, and a white cat.
In times gone by, wealthy folk occasionally granted land and/or money to house aged widows. Courtyards with such charity housing still remain, and are typically a set of small, spartan apartments arranged around a garden and a well. We saw three of these. They are typically run by churches, and the criteria for remaining in these apartments are basically still enforced. Once you are in, you can stay for the rest of your life (so long as you meet the criteria -- presumably, if you marry, you're out).
In the Netherlands, the tax rate starts at 30%, and very rapidly ramps to 60%. Plus a 0.8% asset tax. Plus an inheritance tax. Plus $4.50/gallon for gasoline.

[Hans' tour of Haarlem was often interrupted, to let motor scooters careen past and get out of earshot. With the high price of gasoline, the narrow streets, and the fact that scooters are allowed in pedestrian-only zones, these things are very popular. They are also often driven in a less than prudent manner, leading Hans to say, in frustration, "We call them kamikazes." Brig piped right up, "We call them organ donors!" Hans cracked up, and said he would use that line in future tours. Brig joked that he would then owe her a royalty. Hans fished out a 0.25 guilder coin and ceremoniously handed it to her, "There!" He wouldn't take it back.]
The group broke up for dinner. I spied a Turkish place just off the square, which Rick or Gene had said was okay. Brig and I headed over there, accompanied by Peggy and Ray, Ling and Ray. Unfortunately, the food was so-so, at best. We ordered spicy lamb and stuffed eggplant. We got plain lamb kabobs and oil-soaked slices of eggplant in a tomato-onion sauce. f54 = $27. ICK